Each summer, children and adults from around New Brunswick come to Camp Rotary, located on the shores of Grand Lake, to spend many memorable days. During their stay, campers have the opportunity to participate in many activities they've never experienced before. The campground comes alive in June with smiles and laughter and songs that can be heard across the lake from dawn till dusk.
Camp Rotary is an accessible, accredited summer camp owned and operated by Easter Seals New Brunswick, with support from Rotary Clubs across the province! If you want to know more about Camp Rotary, or if you wish to make a tax-deductible donation, please contact us.
Camp History
Camp Rotary on Grand Lake has been offering summer camp adventures for people with disabilities in New Brunswick since 1952. Originally operated as a therapeutic recreation centre for children with physical disabilities, the camp now offers a host of summertime activities for children and adults of any ability level. Camp Rotary is now recognized as a leader in accessible outdoor camping in Canada and boasts a fully bilingual program.
---
Camp Philosophy
Camp Rotary believes in the intrinsic value of camping in a residential setting. Camping provides an experience of adventure in the outdoors while instilling an awareness and appreciation for the natural environment. Camping teaches cooperation through playing, working, and planning with others. Camping helps to build self-confidence through the acquisition of new skills, accomplishments, and insights.
All persons with disabilities should have the opportunity to be included in all aspects of camp life. Inclusion enhances the lives not only of campers with disabilities but also of all campers, staff, and volunteers who participate. Inclusion benefits the camp as a whole and creates a community respectful of the presence and individuality of everyone involved. Fun and recreation, together with respect for the dignity the individual, are at the core of this philosophy.
Camp Rotary's motto is "Focus on Ability." Campers are to be instilled with a sense of responsibility by being encouraged to do things for themselves and others. The staff should take a personal interest in each camper and give ample opportunity for self-expression in a well-balanced, varied program. Everyone will be encouraged to participate in all activities. If a disability limits an individual's full participation, the program will be adapted — it should never be assumed that an individual is incapable of participating. We wish to create a healthful recreational atmosphere with wholesome outdoor activities for everyone.
---
Camp Director's Message
Welcome to the Camp Rotary website. We hope that you enjoy browsing our site, and that you find all the information you are looking for. If you have any questions about the programs we offer, our facilities, or how to go about applying for the summer of 2022, please feel free to give us a call at (506) 458-8739.
Emma MacIntyre
Camp Director
---
Camp Staff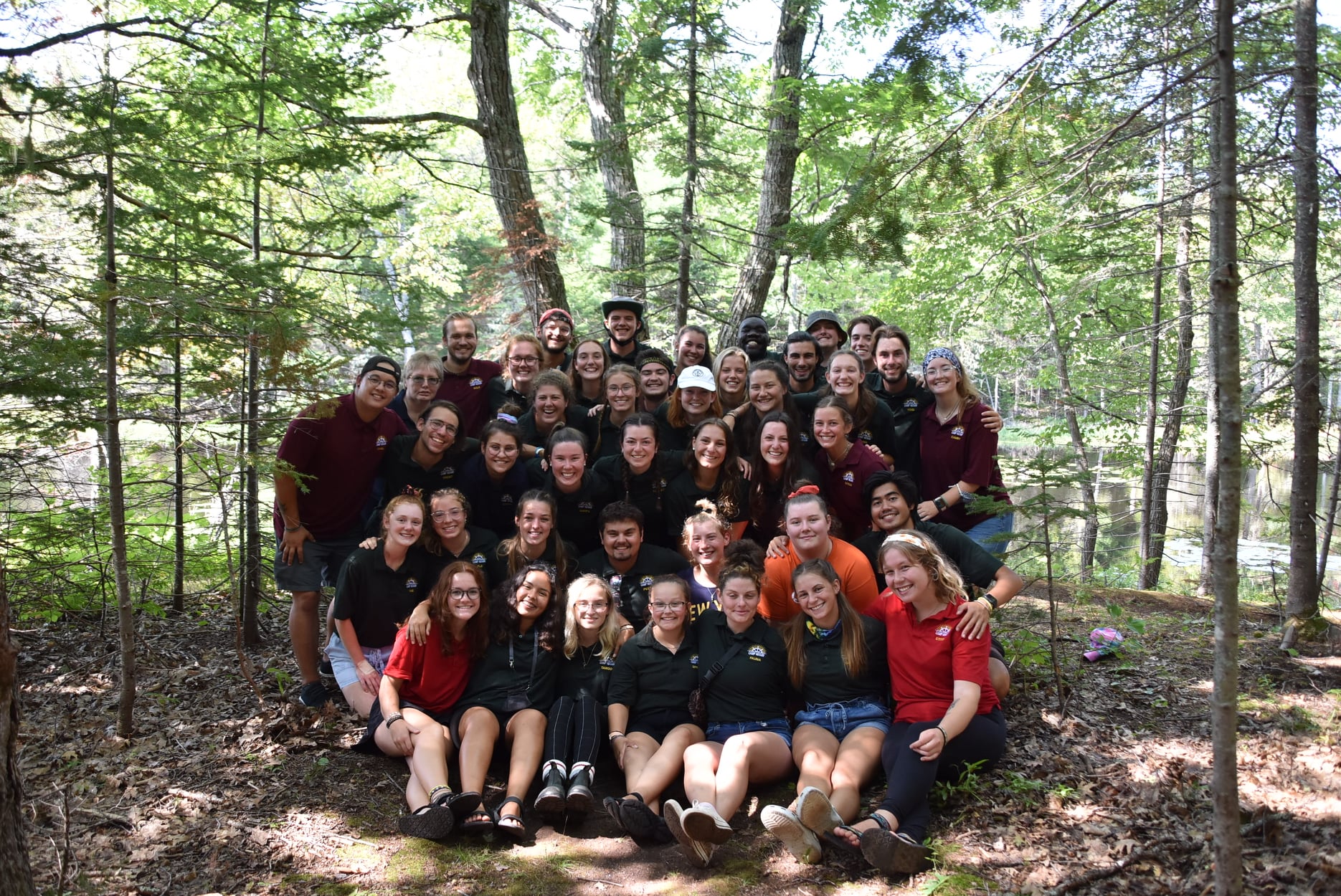 The Camp Rotary motto is "Focus on Ability," and that's what we do. Each summer, Camp Rotary hires 40 staff who are chosen for their maturity, enthusiasm, and caring manner. Prior to working at camp, the staff go through an intensive 10 days of training during which they learn the important skills necessary for working with our campers.
Our staff-to-camper ratio is better than 1:2, and every camper gets a lot of personal attention. Many of our staff are bilingual, and activities are offered in both French and English. Special session instructors are hired to provide morning sessions and activities. A full kitchen staff and a licensed cook provide nutritious and tasty meals.
---